Duo of new restaurants adds to Chinatown London's culinary diversity
Madeline Shade, 8 months ago
2 min

read
78
[ad_1]

Shaftesbury has announced the further diversification of Chinatown London's range of cuisines with the launch of two new restaurants. Making its European debut is Zhang Liang Malatang, the serve yourself Chinese eatery with more than 5,500 outlets across Asia-Pacific.  Zhang Liang Malatang joins Speedboat Bar, a new Thai restaurant concept from JKS Restaurants and chef Luke Farrell.
Located at 112 Shaftesbury Avenue, the 1,200 sq ft Zhang Liang Malatang's hero dish is Malatang, a spicy soup originating from Sichuan province, that is now a popular street food throughout China.  Diners can select from dozens of fresh ingredients, including meats, seafood, vegetables, condiments and herbs on display, enabling them to customise their bowl before taking it to the counter to be cooked with their soup of choice.
Located at 30 Rupert Street, Speedboat Bar is the third brand from JKS, the award-winning group, in Chinatown London. With a menu created by Luke Farrell, who spent over 15 years training and working in South East Asia, Speedboat Bar's offer is inspired by Bangkok's Chinatown.  The restaurant's signature dish is a creamy Tom Yam Mama and the Speedboat kitchen is powered by a large Chinese bullet oven to create crispy pork bellies and salt roasted poultry.  Rice noodles are supplied by a long-term tenant of Chinatown London, Lo's Rice Noodles, and many of the specialist Thai ingredients are sourced from Farrell's Ryewater Nursery in Dorset.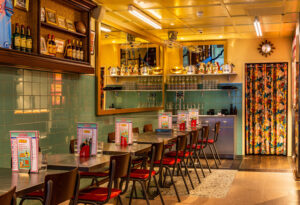 Julia Wilkinson, Restaurant Director at Shaftesbury, commented: "Chinatown London is unique in Europe as a window on the Far East, which is reflected in its complete representation of authentic and exciting food and culture from East and Southeast Asia. To have welcomed Zhang Liang Malatang, such a prominent serve yourself eatery known across Asia-Pacific, alongside Speedboat Bar, an innovative restaurant at the forefront of reimagined Thai cuisine, is a direct response to the trends that we are seeing first-hand in the Far East."
A spokesperson at Zhang Liang Malatang, said: "Chinatown London provides a unique window on the Far East in Europe, which is reflected in its complete representation of authentic and exciting food and culture from East and Southeast Asia. To have welcomed Zhang Liang Malatang, such a prominent concept known across Asia-Pacific, alongside Speedboat Bar, an innovative restaurant at the forefront of reimagined Thai cuisine, is a direct response to the trends that we are seeing first-hand in the Far East."
Karam Sethi, Founder, JKS Restaurants, added: "We're pleased to have brought Speedboat to London's Chinatown. The space is a loving recreation of the restaurants and bars of Bangkok Chinatown's Yaowarat Road, conceived with our partner, Luke Farrell. Guests can come in from lunch through to late night to enjoy zingy salads, stir fries, noodles and aromatic curries with whisky sodas in a lively, buzzing space."
[ad_2]

Source link
Related posts